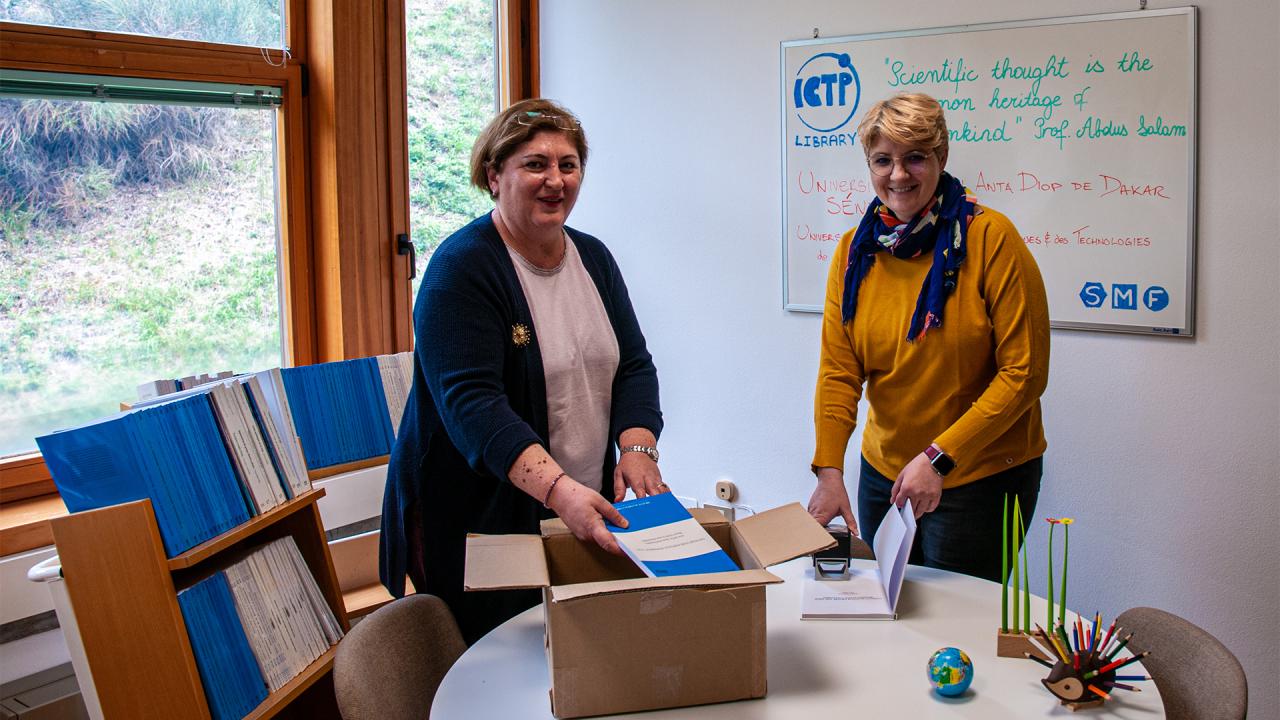 One of the many exceptional initiatives envisioned by Nobel Laureate and ICTP founder Abdus Salam was ICTP's Book Donation Programme to universities in developing countries. This scheme fully expresses Salam's lifetime leitmotif: to bring scientists from the developing world out of isolation, bridging the gap between "North" and "South".
The donation programme, coordinated by the ICTP Library, was initiated more than forty years ago, and it flourished during the '80s and '90s. According to the ICTP Scientific Activity Report released in 1985, in the early '80s about 2,000 books, 14,000 journals and 4,000 proceedings were distributed each year to more than 200 institutes in 80 developing countries. The number of publications and recipients kept growing in the following years. In 1988, 3,400 books and over 20,000 journals and proceedings were delivered to more than 500 institutions in almost 100 developing countries. And in 1994, the total number of books, proceedings and journals donated reached an astonishing 45,000. In those years, some 160,000 volumes were stored in the ICTP's warehouse, ready to be shipped to the remotest parts of the world. From Benin to Zimbabwe, from Bangladesh to Thailand, and from Honduras to Venezuela, the focal points were – and still are – distributed throughout Africa, Asia and Central and South America.
The programme's rationale was very straightforward: libraries, publishers and individuals were asked to donate relevant books and publications to ICTP. Acting as an intermediary, the Centre would then distribute this wealth of scientific material to selected libraries in developing countries. Year after year, numerous books were successfully shipped to all corners of the world. And yet, in the 21st century the programme progressively lost momentum. By 2015, numbers had decreased from the thousands to the hundreds. Between 2015 and 2022, an average of 527 books were donated each year to about 30 countries, mainly Nigeria and other African countries, even if the donation database still listed 74 active focal points. Not surprisingly, the drop in numbers was even more dramatic in 2020, due to the Covid-19 pandemic.
This brings us to the current era, dominated by the circulation of electronic publications, and the questions it raises. Today, with more and more books and journals available online, would a book donation programme still make sense?
"One day I was reflecting on this," says Eva Babonich, Head of ICTP's Library, "when an ICTP Associate from Ethiopia visited our Library before returning to his home country. I asked him his opinion on the matter, and his answer was enlightening. He talked about places still affected by civil wars, places where living conditions are harsh and electricity is barely available. He had no doubts: sending science books in disadvantaged areas can still make all the difference in the world."
So the book donation programme is here to stay, but a new era has started. The current vision is to move from an 'information transfer infrastructure' to a 'knowledge exchange network'. In the past, the programme was run with a top-down approach from publishers to institutions in the developing world, with ICTP acting as a joining link. If this aspect is still to be treasured, now the aim is to create a network of Global North and Global South libraries and institutions which talk to each other, and to build a dedicated platform where they can constantly exchange information and knowledge on a variety of issues, from bibliometrics to open science, from scholarly communication to academic identity management, to name just a few.
"The new mission of our Library and the book donation programme," explains Babonich, "is to become what ICTP is for physics and related fields. In the next couple of years, we would like to establish a place where librarians and other information experts can meet and share their experience, work together and learn from each other, creating a vibrant and ever-growing network at the global level."
The first steps of this deep restructuring and renovating process have been taken, and new strategies to reactivate book donation and revitalize contacts have been devised. A few months ago the Library asked a selection of scientific publishers if they had books in stock they would like to donate. "We weren't looking for random donations, but for good and useful books," says Babonich, "so we asked for something specific: up-to-date, high-quality literature on physics and mathematics, which could be really relevant for our network." The first reactions were good: the Société Mathématique de France, for example, donated 300 books that have already been delivered to two university libraries in Africa.
But the turning point is embodied by the Springer Donation project. The ICTP's Library owns a massive collection of books on physics, astronomy and earth system physics published by Springer. A lot of these books are now available online, and the library's focus is changing accordingly. A meticulous work of title matching is currently ongoing: printed books owned in electronic format are marked with a blue dot, and will soon be donated. At the moment, the 'blue-dotted' books number about 6,000.
"The Springer Donation is a kind of transitory step from the classic donation programme to our new knowledge exchange network," points out Babonich. "Representatives of each of ICTP's scientific sections will help us identify potential libraries in the Global South, to widen our network of focal points and partners. And we are planning to mark these books with Abdus Salam's notable phrase: scientific thought is the common heritage of mankind. We want to give a different touch to the books we donate, highlighting the idea of sharing, of making something of value available to as many people as possible."
At the core of this initiative, there is the idea for the ICTP's Library to become a 'lighthouse library', which acts as a reference point and gives guidance, is free for everybody to use, and serves as a meeting ground for orientation, dialogue and exchange. In accordance with this, the donation programme aims at becoming more visible, so that it can further grow and widen its scope. A simple and effective way to accomplish this is by asking recipients to share book-related stories, in order to create engagement and further develop collaborations.
"The new course of the ICTP's Library is fully inspired by this special place and its unique vision," concludes Babonich. "One day I was reading Abdus Salam's notes and I asked myself, what would he want for our Library and the donation scheme? His deepest concern was to give access, at all levels. I even found a note where he suggested to make four copies of a journal issue and distribute them in different places within the ICTP premises, so that scientists would always have them at hand. So I simply decided to go back to the roots of the Centre, to its core mission, and keep building on this extraordinary legacy."