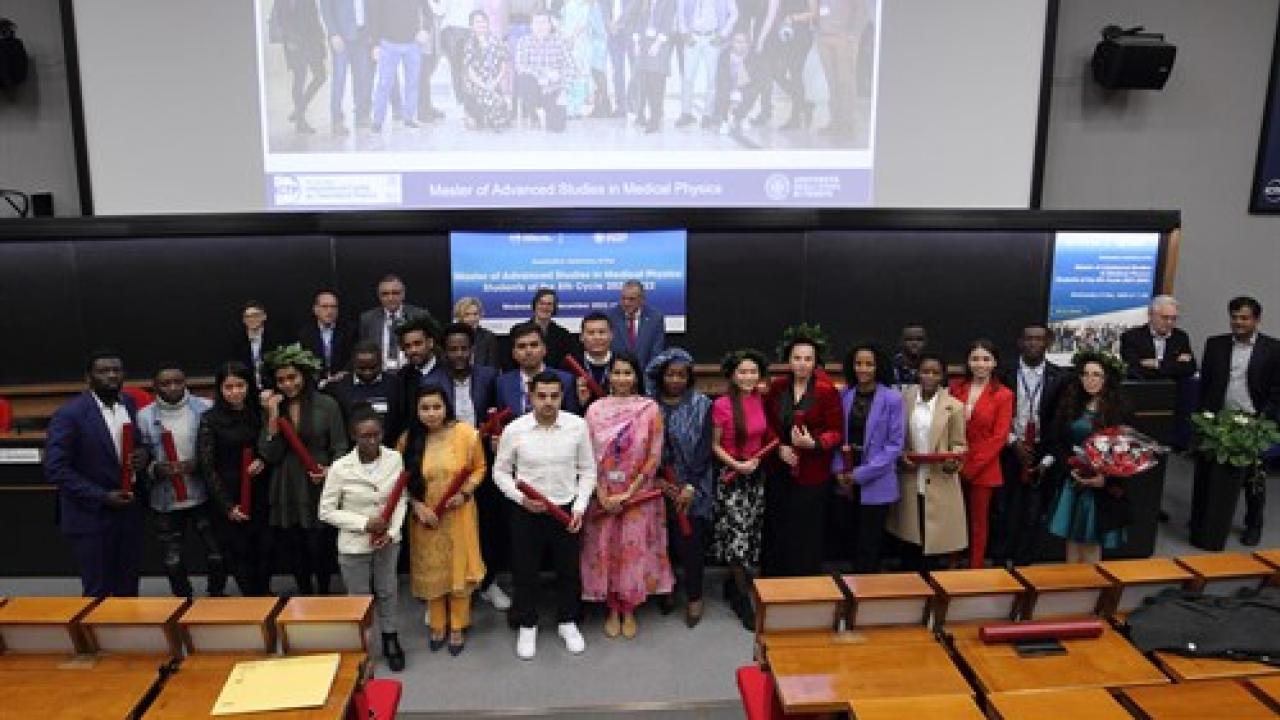 On 14 December, ICTP's Masters in Medical Physics (MMP) programme celebrated the graduation of 22 students from its two-year advanced training programme run jointly with the University of Trieste. The students, representing 16 mainly developing countries, completed the MMP's postgraduate theoretical and clinical training so that they may be recognised as clinical medical physicists in their home countries.

The new graduates join a growing number of MMP alumni--120 from 64 countries since the programme began eight years ago--who are equipped with the know-how and skills to contribute to the health of their home countries. Cancer is one of several major health challenges for which medical physicists are needed to combat, and in the developing world the need is dire: 90% of cancer patients in low-income countries do not have access to up-to-date radiotherapy treatments. The students trained in ICTP's MMP programme return to their home countries prepared not only to supply treatment but also to train other providers. The need for medical physicists is only increasing, with populations growing and life expectancies increasing worldwide.

ICTP's MMP programme, which is co-sponsored by the Centre's UN partner the International Atomic Energy Agency, comprises a year of basic and advanced courses (taught in English) prepared with the assistance of IAEA experts. This is followed by a year of professional clinical training in a medical physics department of one of the 24 Italian hospital medical physics departments in the programme's training network.

MMP student Xhulia Dosti of Albania, the programme's top student this year, said that ICTP's master's course has boosted her knowledge of the field to an international level. In particular, she pointed to the programme's year of hands-on, practical training in Italian hospitals as crucial to her professional development. "The medical physicists from the programme's network of hospitals treated us as equals and with dignity. Honestly, I can say that they are the key for our success tomorrow," she said.

Dosti aims to use her newly gained knowledge to assist in Albania's investment in SBRT (stereotactic body radiation therapy) treatments, a technology that targets tumors with high doses of radiation. "After this programme, I have the background needed in radiotherapy physics. I have to mention that behind me are all of my ICTP professors, and especially the medical physicist team from Santa Maria Annunziata Hospital in Florence (my training centre), which are and will be my motivation for this challenge in implementing this useful technique in Albania in order to give our patients an evidence-based and standard of care treatment," she said.

The MMP is supported by the International Organisation for Medical Physics (IOMP), the European Federation of Organizations in Medical Physics (EFOMP), and the Italian Association of Medical Physics (AIFM) in collaboration with the Trieste hospital.